Microresidence Network Forum 2020 Tokyo
Y-AIR concept – "AIR × Art University" International career development of young artists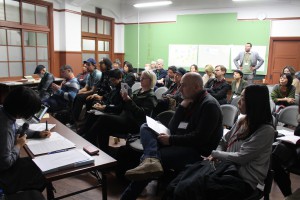 We will hold a two-day Microresidence Network Forum 2020 Tokyo in February, 2020.
Artist in Residence (AIR) is a facility / program for residency and creative activity that allows to study and work in deferent environments and conduct research and creative necessary to improve their skills.
AIR, a platform for international exchange through creative activities, is a place for professional artists and arts managers to explore and practice through cross-cultural experiences. In recent years, various activities have been developed in conjunction with activities such as community development.
Since 2013, we have been conducting an experimental program called "Y-AIR Concept" (AIR for Young).
We have positioned AIR's role as a place where will provide a place for hands-on experience and training to actively open up their activities as future who will act autonomous professional artists, social members with international mind. AIR, which is a micro entity, and an educational institution (art university), which is a macro entity, collaborate to create an environment and mechanism that is easy for art students and young artists to access. We would like to encourage the development of a career, and open up the possibility as a place for career development after graduating from a art university.
In the two-day forum, we will look back on our activities, verify the usefulness of Y-AIR's international network, deepen our research, and discuss how to create a concrete structure and organization.
On the fist day, we will share and verify the concept of Y-AIR based on activity reports from Y-AIR practitioners in Japan and overseas. On the second day, we will set up a practical forum for the establishment of the Y-AIR network.
The results of this forum will be a positioned as a kick-off for the November 2020 event in London.
We are looking forward to the participation of a wide range of people, including AIR operators, universities and educations, as well as international cultural organizations, grant foundations, cultural policy researchers, artists and students.
====
Microresidence Network Forum 2020 Tokyo
Y-AIR concept – "AIR × Art University" International career development of young artists
[Date]February 7 (fri) – 8 (sat), 2020
    DAY 1|13:00-18:00、18:30-Social gathering
DAY 2|14:00 – 18:00
[Venue]Joshibi University of Art & Design, Suginami Campus |Classroom 1209  etc.
    (1-49-8 Wada Suginami-ku, Tokyo)
[Capacity]50(First come, first served)
[Participation Fee]Free(The reception will be held at around 18:30 after the fist day. Membership fee ¥3000)
【 DAY1 ・ 7 February (fri) 13:00-18:00 】
We will share and discuss the concept of Y-AIR, focusing on activity reports and case studies from domestic and foreign Y-AIR practitioners.
1. Introduction from Y-AIR Network Preparation Committee
Introduction and summary of Y-AIR practice activities now between Japan and overseas.
2. Case report: Y-AIR practice cases with domestic activity groups
- London Case "Support for college careers and young artists who have just graduate"
:Graham Ellard, Professor of CSM, University of the Arts London, etc.
- Melbourne Case "AIR activities and practices in the university"
 :Andrew Tetzlaff, RMIT/SITUATE coordinator etc.
- Czech Case "International summer school run by the university"
:Marketa Kohtkova, Manager of ArtCamp University of Wes Bohemia etc.
- Finland Case "Y-AIR through collaboration between AIR and art Univ. and environmental art"
 :Kaisa Keratar, Co-director of Waria Artbreak, etc.
- Philippine Case "Collaboration between AIR and the Univ. and Social Issues"
:Jaime.J.C.Pacena II, Professor of Asia Pacific College, etc.
3. Group work
4. Summary
5. Reception(cafeteria ・Reservation required)
【 DAY2 ・8 February 14:00-18:00 】
A public forum for practical discussions led by the Y-AIR Network Preparatory Committee will be held. A working group for the realization and establishment of Y-AIR practical activities through cooperation with universities and AIR networks and related organizations, and a working group for the formation of international networks. We will start preparations between universities, between AIRs, and from the perspective of securing financial resources.
Organizer: Microresidence Network, Y-AIR Network Preparation Committee
Cooperation: Joshibi University of Art and Design, Tokyo University of the Arts, Central Saint Martins – University of the Arts London, Royal Melbourne Institute of Technology, University of West Bohemia, University of Lapland,  Youkobo Art Space, WariaArtbreak, BM Lab, Rikuzentakata AIR, Tenku Art Festival AIR, AIR Network Japan
Reservation
Please fill in the form and questionnaire by 24 January. 
HERE
After the deadline, we will announce more details for all participants.
Contact
Y-AIR Network Preparation Committee Secretariat:Youkobo Art Space(Makiko Tsuji)
E-MAIL: info@youkobo.co.jp  TEL/FAX: 03-3399-7549