Luxembourg AIR(Artist in residence) survey / September 5 – September 7, 2017 by Tatsuhiko Murata
Since 2011 we are respect Luxembourg artist under supporting from the Embassy of Luxembourg in Tokyo. Such back ground we would like to send Japanese artist to Luxembourg After accepting In It is seven years after receiving the Luxembourg artists which began in 2011 supported by the Luxembourg embassy in Tokyo. We had the opportunity to visit AIR program and discuss the realization of artist dispatch from Japan to Luxembourg. In this opportunity, we also planned to exchange with five artists who had stayed at Youkobo. The unexpected cancellation of the flight from Amsterdam to Luxembourg, it was changed tough shcedule from 3 days 4 nights to 2 days 3nights, but due to the heart-warm and friendly collaborative support by Luxembourg artists, we had progress as planned. Christian Aschman  changed the interview schedule of newspaper reporters, all the schedule for reorganizing the plan was successfully completed. Flora Mar guided the whole process by her car for us who have without time and land intuition, Stina Fisch showed us to the newly constructed public elementary school which was responcible as she is the one of designer.
And also we visited her studio and Modan Museum which is her working place.
We received the art work from SUMO of popular painter. Thank you very much for everyone from the bottom of the heart.
· Artist-in-Rasidence Program, the Annexes of Castle Boulglinster, Luxembourg city suburbsMagaret Tasch, Luc Braconnier, and Mr. Lee showed us the studio, exhibition space, book archives, etc. The castle has a restaurant, which was under repairing  An annex building of facing the castle is an AIR facility.
· At the guide of Stina, visit the Mudam Museum and her studio and public architecture she designed and decorated.
· Dinner with artists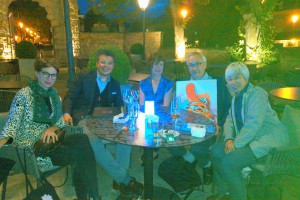 • A new AIR program in Luxembourg city, which is established by Tessy Friz,will be started by the end of the year,under preparation. AIR Villa Kunterbunt has three floors which has the studio for the paformers  (in the underground) and the garden too.
Interview by the Luxembourg Newspaper Company: Luxembourger Wort 2017.9.5
Coverage: Vesna Andonovic, journalist in charge of the culture for Luxembourger Wort    
Photographed by Christian Aschman, photographer of Luxembourger Wort 
newspaper_Luxembourger Wort 2017.9.5